Okra Solar provides IoT and AI enabled hardware and software to last-mile energy companies so they can sustainably energize remote off-grid communities. In this interview, Afnan Hannan, CEO shares his thoughts on the key trends in Nigeria's nascent renewable energy industry and what he believes needs to be done.
Meet Okra
We started 5 years ago to build technology that will support energy companies in getting electricity to last mile communities and villages that don't have power. We do it in the most cost effective automated way.
Challenges to a sustainable energy future
The data shows solar panels and batteries have reduced in price by 80 per cent in the last decade.
Over the next decade, we are looking at another 2x reduction.
On the other side, you look at diesel and kerosene. People are very reliant on that in many areas where electrification is going to be a challenge. The supply of diesel and kerosene is very unstable especially in areas where there are no roads.
I think it's a no-brainer now that the technology is there and the price has reduced.
What we have are the ecosystems challenges. We need to develop companies who want to go out there and distribute it and they will because the money is there to actually do it.
We need to develop regulations so that the companies can do this in a way that doesn't slow them down because all the big existing companies are depending on centralised and fossil fuel based generation.
I think it's just a matter of time until the floodgates open and there's a race between energy companies to energise all the last-mile households with renewable energy.
Gaps in the Nigerian energy sector
We have got both a supply problem which is the amount of capacity of power that is installed which is not enough to meet the demand. In addition to that, we've got half of the country that are not even connected to an electricity grid.
So, those that are connected to the grid are not getting enough power because there is no enough supply but those that are not connected to the grid, we've got a different problem -because they've never had energy, the energy demands of these households are really low.
If you are the grid operator, it does not make sense when you can't serve your existing customers to build more distribution to serve new customers who are not going to use much energy and be a profitable customer.
The way that Okra fits into the gap is that we are a mesh-grid technology provider, which is really flexible like a solar home system in that it can be deployed low-cost and small to serve entry access for example lighting, tv and phone charging.
However, unlike solar home systems, it can be interconnected and scaled up to work like a grid, and supply high power and variable loads.
Households are able to scale up their consumption to electric cooking, refrigeration – all the thing that help those communities really generate more income and also consume more electricity.
We use IoT and automation to let interconnected solar home systems operate as a grid – our AI based software ensures power can be shared to where it's needed most. So, these households can now use all those productive appliances.
One way to look at it is a utility can deploy a mesh-grid now and when the utilities eventually have the capacity to expand the grid, they've already got customers who are using a lot of power and they're ready to start serving them.
Strategies new businesses need to survive
You need to get customers. Once you have them, you prove that there is value for the product or service that you are offering.
As a startup company in the early stages of doing something innovative, or different might mean you're not necessarily pulling in profits but you need to demonstrate the traction and demand for what you are offering.
In the energy space, you need to have quick deployment or turnaround time. If we have to buy a lot of inventories and pay a lot of operational cost for our staff but we can not set up a minigrid for over a year or two, then that's going to hurt the business.
This is why solar home systems are good in that respect because you can deploy them as quickly as our mesh grids. You can do deploy them right away. You don't need to get land permits and clear an area and take 6 to 18 months of development time to do that. So, deploying quickly is very important as a new business.
I think in Nigeria, there's always the challenge of the exchange rate. So, you don't necessarily want to hold inventory for too long before you sell it.
Also, if you've got customer contracts you might want to take out money in Naira so you don't have to deal with the foreign exchange rate risk or you might want to have your contract in USD if possible.
I think you can't be too worried though, the key is to keep serving the market fast in Nigeria because there's so much opportunity to make impact.
For someone coming from the outside, these are some of the lessons that we are applying.
Attracting finance into the African clean energy space
I think the industry is super exciting. When you simply look at the solar resource, it's massive on the African continent. If you look at countries like Nigeria, they have more energy generated from backup diesel fuel than the main grid.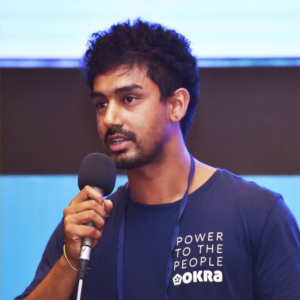 This provides a massive opportunity for anyone working in the clean energy space. Many African countries are growing faster than anywhere else in the world.
One of the things that stop funding coming through is the perceived risk about the political environment andor the currency. But if you can demonstrate that your product/service has a long term need irrespective of the political situation.
And if you can put in place a mechanism to hedge your currency risk, I think there's more opportunity in Africa than there is anywhere else in the world. It's a good place to start building clean energy projects in my opinion.
Forecast for 2022
One thing that's really exciting right now with Nigeria is that there are many tech companies that are reaching maturity and I think we'll see the nexus of those.
We are looking at mobile money companies so that these last mile households can actually pay digitally. We are looking at institutions providing finance to these households so they can buy things such as fridges and water pumps.
We also can see the emergence of last mile logistics companies in Nigeria. As these companies work together along with lower cost electrification through cutting edge technologies, I think we are going to really see quick adoption of meshgrid and offgrid solar in Nigeria.
Okra's Plan
In 2021, we entered the market and created pilot projects with a number of local partners and we got to meet the government and regulators to understand what their position is on energizing the whole country. It's a massive challenge.
Now, that we have proved the technology out with a few pilot projects, the plan for 2022 and 2023 is going to be to energize over 10,000 households in Nigeria and to scale that up exponentially the year after.
By 2030, our goal is to make sure that combined with grid extension, Okra in Nigeria has 100 per cent, 24/7 electrification for the entire country.
It's a really exciting opportunity especially considering that people in Nigeria are so resourceful so when they get connected to Energy and internet, they start leveraging all the opportunities that are available to them. The world is their oyster and the Nigerian people are grabbing it so we need to make sure they have the infrastructure available to go for it.