Happy Amos is CEO at Roshan Global Services, a clean cook stove company and makers of Happy Stove. Here, she shares her experience championing safe cooking in Nigeria.
In the beginning
The stress of using firewood prompted me to start Happy Stove. When I experienced having to use firewood with the smoke, I thought this must be the experience of others too.
So, I decided to find a solution to it.
I understand that you've been doing a lot of awareness and advocacy on the merits of safe cooking on social media. How do you get in touch with several of your potential customers who are in villages and with no access to social media?
What we do to people who are not on social media is that we go into such communities and conduct Demonstration campaigns.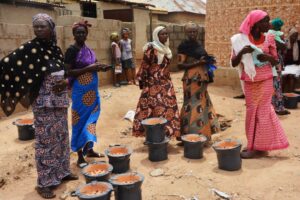 We show how the stove works and educate people about it. But because of COVID-19, we couldn't gather people.
What testimonials have you gotten from customers that let you know you are on the right track?
There is this lady who fries Akara and Yam by NNPC Depot in Suleja. I remember walking up to her and introducing the cookstoves to her and she was hesitant at first because she just bought her Abacha Metal stove recently and investing in another cookstove was not a priority for her.
So, I offered her the cookstove to try for a week on the condition that she pays me if she likes it.
So, I dropped it with her and left. A week after, I came back and while I was greeting her, she was looking into some things. I didn't know she was bringing out my money to pay me.
She said she was previously spending on average N300 daily to buy charcoal but with the Happy Stove, she spent just about N70 of charcoal.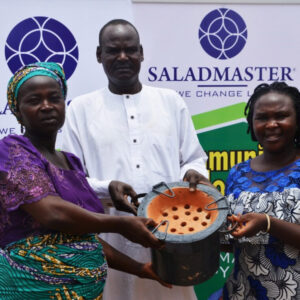 Another thing was that previously her customers would need to stay close.  If not, the other traders will send them away and they find it difficult staying close to her because the Abacha stove she was using was generating a lot of heat so they find it uncomfortable sitting close to her. But with the Happy stove, they are able to stay.
So, she has more customers and her customers are not looking for where to go and stay and eat.
This is why our slogan is "Happy women, happy stove".
How are you tackling affordability?
We tell women that if you buy firewood or charcoal, why not have a savings system? With the cookstove, you are spending less on your fuel. We encourage people to have this 'Kolo'.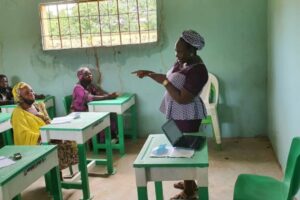 Let's say you drop N50 per day, in the next 30 days, you already have half the cost of your stove. This means on two months, you would have paid for the cookstove.
Role of government
There needs to be basic infrastructure. We are not meeting our target because of lack of access to electricity. The cost of production is high because of this. Transportation is so expensive. Another issue is bad roads.
All I want at this point is basic infrastructure in place. Let multiple taxation stop. You have different people taxing you for different things at different times. I know I'm just wishing but e go better.
Expansion plans
Currently, we are operating in three primary locations. We have our headquarters in Niger state. We have a branch in Mubi, Adamawa state and also in Bauchi. These are places of primary production activity. But we sell stoves all over Nigeria.
Why North?
There's no business reason for siting in the north but it's close to home and a terrain I'm more aware about and know well than other locations.
By experience, if I'm not physically in the business, you hardly have hands that really take care of it for you. You just keep getting stories. So, it's better where I have easy access to. Then, these are the areas of interest for some of my partners.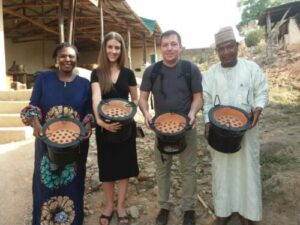 We are very much interested in expanding to the south and the west.
In the next five years
What is important to us is providing women with access to clean cooking. In the next five years, we want to be able to see that no woman is struggling and cooking with dirty fuel.
We want to see that we have increased our area of coverage and impact. This is not just about the cookstoves but the fuel.
We are also looking to see how we as a company will grow from biomass to cleaner alternatives.
Plans for LPG
For now, our major worry is the structure. There is no infrastructure for LPG in the areas where we operate.
People cook everyday so access to clean cooking is access to life. Cooking should not kill. We need to stop paying lip services to it and overlook the importance of it. The merits can not be overemphasized.