Getting access to constant electricity is a major concern for businesses and homes in Africa.
Specifically, as of June 2018, an average household in Nigeria can only have access to 6 hours uninterrupted power supply out of the 24 hours that exist in a given day.
This is why the use of generators as an alternative power source is so common in Nigeria.
Generators are major source of environmental pollution, emit carbon monoxide that can lead to headaches, dizziness and even more serious illnesses such as heart disease.
Solar power, on the other hand is pollution free and causes no greenhouse gases to be emitted after installation.
In 2019, Oluwatobi Oyinlola, inventor and entrepreneur and a group of other young inventors designed a solar facility 'SolarPocha' which aids one in working outside with solar power.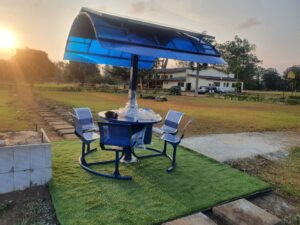 "Many people enjoy working outdoor but lack access to the internet and are confronted with the challenge of powering their electronic gadgets.
This is what we want to fix," he told The Energy Intelligence in an exclusive chat.
According to SolarPocha's website, it is an outdoor solar charging station that provides off-grid clean energy to power mobile and portable devices, LED lighting, Wi-Fi, and IoT booking capabilities in the form of a canopied table with seating. Maximizing the sustainability, utility, and economic value of outdoor spaces.
"The solutions can be deployed in communities, where internet access is an issue and power could be a challenge, to help children learn.
Corporate organisations could adapt it for their staffs.
For a big organisations, having staff members that would prefer to work in an open space, this kind of solution can be modelled where they can take a break outside the workspace but within the organisation's building and yet still have discussions with colleagues.
They can go with their laptop, plug it in and also have access to the internet
If the organization has interest in this type of solution, it could be branded with the organisation's logo, slogan or colour and can also be installed in different places e.g schools, hospital or any other location the company desires," he said.
He was part of a team of engineers to build the next generation vehicle, 'Hyperloop', a competition initiated by Elon Musk, where he led his team to win "Best Innovation of the year."
Oluwatobi believes Nigeria is not ready for the Energy Transition.
"Renewable Energy could do little but it's important to know that no country depends on solar energy alone and this has been the major focus in Nigeria.
While I stayed in France throughout 2019, in my community where I resided, we used clean energy, which has its difference from solar.
If you'd completely run everything in Nigeria, we cannot continuously bank only on solar energy , and keep saying solar energy would solve all our problems as regards electricity in Nigeria.
If we are talking about clean energy, then yes we need clean energy. The question however is, how?
This means the way of generating energy needs to change. We need to find a better way to make it clean and then we can combine a whole lot of things.
For example, in France, there's a combination of various clean energy sources – solar, wind, biogas
They also use batteries that can be recycled. They want 100 per cent clean energy and that was what they were able to get.
So, if Nigeria would go completely solar, it means it will be so expensive for us to go for. So, I'd say we are not ready
In my opinion, one very important way we can solve this issue is if we can have a decentralized network.
Different states can generate their own energy. I believe states can generate their own energy, for example, Oyo state generates their own clean energy and have excess they can sell to neighbouring states and generate revenue.
Maybe that is the easiest way to go. It should not be that we all generate energy from one source and distribute across the nation," he added.
A common thread exists amongst young innovators for the SDGs: they are invariably passionate individuals, with a determined vision to fill unmet needs and deliver positive change for the communities, societies and the world they live in.