"I want to make electric cars. But I need to start from somewhere. The model we are running for the bike is lease and ridesharing. Right now, we are targeting small businesses.
It's Sunday morning in Ibadan, southwest Nigeria and Tolulope Olukokun is talking about the electric bike, Alpha 1.0, he built to save small businesses the cost of buying a fossil fueled truck for their logistics needs.
Olukokun, a mechanical engineer and former tertiary institution lecturer is Founder and CEO at ThinkBikes, an electric mobility company that relies on locally produced and innovative electric bicycles. It caught the attention of the African EV ecosystem when it got a €10,000 grant from Siemens Stiftung last June. The money was intended to help the winners establish their products and services on the market.
"We could do as low as NGN10, 000 ($24.23) per 100 km for two weeks. With that, you will only use it when you need it which drastically reduces your cost.This bike doesn't need any expertise. If you can ride a bicycle, you will be able to ride it," he explains.
Global trends
Mobility is going to change rapidly in the coming years as electric vehicles (EV) proliferate, ride sharing continues to grow, and eventually autonomous vehicles (AV) enter urban fleets, a report by the World Economic Forum states.
E-Mobility is recognized as a viable and attractive option that can help redress the adverse issues faced with conventional transportation system.
The shift also has the potential to offer important co-benefits such as reduced energy imports, green growth and local job creation.
This transition will also contribute to reducing the negative public health implications from vehicles for women and children, who are more vulnerable to the impact of air pollution.
Norway, the Netherlands, France, Germany, the UK, China and India have all made announcements indicating their intentions to eventually ban the production and sale of cars that run on fossil fuels. Cities including Athens, Madrid, Mexico City, Paris and Stuttgart have announced plans to ban diesel cars by 2030 or earlier.
Vast opportunities largely untapped
In Africa, there has been a particular expansion in the e-mobility space of bikes and trikes, from boda-bodas to motorcycle taxi drives; some see motorbikes as a tool to pushstart Africa onto the e-mobility stage. However, the sector faces a lot of challenges in Nigeria.
The transport sector contributes to the 28.4 % of total GHG emissions in Nigeria, the second largest contributor after the energy industries(40.7%), according to the United Nations Climate Technology Centre and Network. Among the six key transportation activities of road, rail, pipelines, water and air transport services, and post and courier services, the road transport takes up the most significant portion.
There were a total of 11.8 million vehicles in Nigeria in 2018, according to data made available by the National Bureau of Statistics. Of this number, 39 per cent (4.6 million) were privately owned, 56 per cent (6.7 million) were commercial vehicles, 1.1 per cent (135,000) were government vehicles, and 0.4 per cent (5,834) were owned by diplomats.
For people who are commuting every day, heavy traffic is one of their dilemmas.
With the cost of crude oil on the rise, driving a conventional truck can eat up a significant chunk of savings.
On the other hand, cargo bikes are more adjusted to city traffic and are able to avoid traffic congestion, thus allowing for a quicker movement through the city. Additionally, deliveries with cargo bikes do not only help reduce CO2 emissions, but also result in less noise pollution, and the feeling of safety is improved as there is less traffic.
Making it affordable
For a country with a minimum monthly wage of USD72.93 (NGN30, 000), the main factors that yield unwillingness to purchase an EV are high purchase price and high battery costs. Based on their affordability and other social circumstances, the willingness to buy EVs varies, and technological advancement has a role to play to increase their rate of adoption in the market.
Olukokun wants to make the bikes affordable for everyone.
"The current price for a unit in the international market is USD1,850 even for wholesale. When you add shipping costs and duty, you might end up with USD3,000. We hope to cut that by 40 per cent. We understand that a lot of people might not be able to afford it.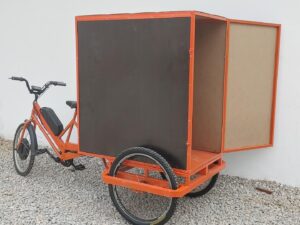 The reason we got into local manufacturing is that we are able to save cost. 60 per cent of the accessories were from the local market.
Batteries are the most expensive part of it. So, our solution is that they don't have to own it. They can lease it, use it and when the lease expires, we come for it. Asides, maintainance is a guarantee, " he says.
How it works
"When you have cargo at the back of this bike and you are going down the hill, the amount of energy you can produce with that will so much help to charge the batteries. During the operational hours, once you charge, you might not need to charge again. With our innovation and solar panel, that should serve you for the day.
It can be charged through the grid but we are looking at how to put solar panels on the cargo box. The issue is that we lack the expertise to laminate that solar panels on the board in such a way that it will maintain the aesthetics. The way it looks matters to us. It charges on the go and while it is idling. That can give you between 15 to 30 per cent of energy. We also have our own in-house innovation where we are able to recoup part of the energy loss. It is what won us the prize. Eventually, we will use biogas to power our bikes."
The project has been so successful that there is a waiting list.
"We have 15 orders already for it. The order came since last year. They didn't even see the product. It's one of the reasons we were compelled to make one."
The firm's capacity would have increased to finish 10 bikes in a day within the next one month, he says.
With the electric ride's focus on aesthetics, balance and storage, he hopes it will become a favourable companion for those who seek riding comfort and stability.