As Founder of Womenergy 265, Lillian Nseula is a leading voice in advocating for innovative solutions to development challenges. She currently serves as a Carbon Operations Manager at UpEnergy and Coordinator at FemEng in Malawi, a partnership project between the University of Glasgow, Scotland and Malawi University of Science and Technology.
In this interview, Lillian speaks on her work, impact and the strategic role women play in eradicating energy poverty.
Let us have a peek into your background
I'm an energy and development economist. I have an MSc in Global Energy Management and Economics from the University of Strathclyde, Glasgow. I also have a Bachelors degree in International Business Management which I did in Dublin, Ireland.
I came back home and saw the energy challenges in Malawi. I saw women carrying loads of firewood on the head and asked myself, "What can I do?".
My plan was to come back for just a month and go back for my PhD. But Covid happened.
I decided to design an improved cookstove that is made from recycled car wheel rims and scrap metal. I started with one fueled by LPG. I gave my mum and it worked well. This encouraged me to produce more cookstoves.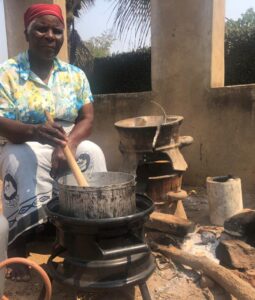 These cookstoves are locally manufactured for poor households which will ultimately help reduce deforestation and help save up to 64 per cent on fuel expenses.
The cookstoves can be fuelled by LPG or biogas. They are made from 100 per cent upcycled car rims; meaning that they are durable, have an almost zero carbon footprint, and also save the environment from pollution.
The challenge was that people who bought the cookstoves had affordability issues because LPG is quite expensive as opposed to charcoal and firewood.
I modified the cookstoves to be biogas-fired. I consulted with several community leaders and NGOs. We were able to design a bio-digester which we used in fuelling the cookstoves. The people were more interested in this than the LPG alternative because of the price difference.
I also designed an oven from recycled drums which is fuelled by briquettes. We also train these women on how to bake cake as a way of supporting them.
Mum was first customer
I asked my mum if I Could use her LPG cylinder. She said no that she didn't want me to waste her LPG.
She didn't believe at first when I told her about the benefits. So, when we got it running, she was excited and said, "I'm very proud of you, my daughter".
What are some of the challenges to a sustainable energy future?
Most households are used to the traditional way of cooking. As an African, women are the managers of the households. They are the ones who are supposed to fetch firewood. What they are taught by their parents is what they know best.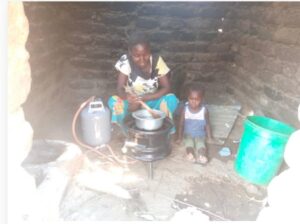 So, they hold back from adopting cleaner cooking fuels.
Also, there is low investment in the sector.
Then, there is a need to put in more robust policies. Most countries around the world are transitioning into the clean energy sector. But Malawi as a country lags behind. Investors need policies that are favorable.
What drives you on the journey?
The drudgery of fetching firewood and cooking takes its toll on the health of women which then stops them from pursuing income generating activities. We need to start looking at energy poverty with a gender lens and see the correlation with gender inequality.
What are the challenges you face as a business?
Due to covid restrictions on movement, there was no transportation. We've had to get some of the parts from Ghana, India and South Africa but with the lockdown, there was no movement. Instead of you producing stoves and ovens that are going to improve people's lives and livelihood, you end up stuck.
Recently, I've met some innovators from Malawi who have been able to develop some of the parts that can be made. So, we don't have to rely on outside suppliers.
How can more young people be encouraged into the sector?
They need to be supported through clean energy hubs where they can test their ideas, teach them how to apply for grants and get to meet with investors. Most African countries don't support young innovators.
I think this is the biggest challenge and if it can be addressed, I think it will be better for the African economy.
Can you share some your career milestones?
With my women led social enterprise, I have empowered a lot of women starting from those that help in collecting vegetable waste in the market to feed the digester to those that go out as sales agents to sell the cookstoves in different communities. We have 80 per cent women in my company.
I'm also the carbon credit manager for UpEnergy. So I oversee the carbon credit development project in Zambia, Zimbabwe and Mozambique.
It's a big project as we want to offset as much carbon through improved cookstoves as possible.
Nigeria is one of the countries that we want to expand to including Madagascar and Uganda. I also work with women farmers.
In Africa, women put in more effort when it comes to farming. I work with investors from Germany and Spain who are willing to support these women farmers in Malawi through solar power technologies and biogas-powered irrigation system.
I registered the company in 2018. So far, we've empowered about 700 women within three years.
This interview has been lightly edited for length and clarity.